Gender Issues ■
You are viewing a filtered article list. Click home for latest posts.
By Antillean, Thursday, December 3, 2009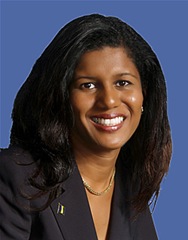 Men should be allowed more legal rights to their children, says Minister of Family, Youth and Sports Esther Byer-Suckoo.
She was speaking yesterday at the launch of sociologist Lloyd Springer's new book, Fatherhood In The Neighbourhood, at Warrens Office Complex, Warrens, St Michael.
The author interviewed and surveyed 50 boyfriends and husbands, who were non-residential, working-class men, about fatherhood.
His book revealed that men believed that the legislation on parental rights was against them and biased towards women.
The book also revealed that the majority of men wanted DNA testing as a policy to determine fatherhood.
"Too often fathers have their rights rescinded; access seems as a privilege restored when the father has met certain criteria, often established and monitored by the mother. This is wrong," Byer-Suckoo said.